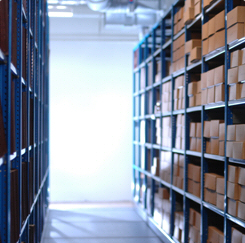 We have been providing RECORD STORAGE MANAGEMENT software for over 2 decades. Storing video tapes for courts, boxes and files for law firms and medical facilities, insurance companies and more. There are two types of CustomWare® for Records Management - one for the warehouse company and one for the individual law firm or medical facility, etc. CustomWare® is at its best when the warehouser and their clients both use CustomWare® for movement and storage. Full internet integration.
Files can be RFID barcoded so that an individual file can be located anywhere in the office or building.
Documents can be digitized and viewed by anyone within the office or the digitized documents can be copied to a CD/DVD for on or off site storage. This is particularly helpful when documents are destroyed - just when you destroyed them, the client suddenly needs them.
Many Records Storage Management companies don't bill for their service until mid-month because they just don't have the software system that keeps them up-to date. With CustomWare, you are billing on the 1st day of every month, increasing your cash flow.
1,000 Warehouse locations
10,000 Customers
Over 111,000,000 Boxes & Records
Individual file records (pages) stored in JPEG, GIF or PDF format
Barcoding of each box and file with or without RFID.
Billing

Carton Sales - 9 standard types, you can add more
Activity

Pickup
Referencing
Destruction
More...

Storage charges including half month billing

Rates by customer and carton type
Secured Vault storage by cubic feet or weight

Reports that will tell you or your customer the current status of each box or file, where each box or file record is, when it came in, when it left, to whom it was given and who requested it.
Requests for Service are printed in box/record location order for quick processing.
Web access/online requests for service with automatic processing - automatic program generated for internet
History on movement for each box and file record

Current status of Box/Record

Import/Export all data
Complete Web Integration. Customers can place orders, review document history & status, view documents - with or without billing them for access, etc.
Multiple Locations/profit centers
Multiple companies (subsidiaries or independent companies)
Internet integration
Automatic generation of internet programs

Customer Statements
Open Orders
Order Entry
Invoice and Payment history with detail
Inventory Placement with history
Make Online Payments

General Ledger

11 Year History
Multiple month & year "open" books - you don't have to close one month or year to begin entering data in a new month or year.
Financial Statements
Full auditing and audit trails
Bank reconciliations - multiple bank accounts
More...

Accounts Receivable

Work Orders
Items "On Sale" with special pricing
Fixed Receivables
Notes Receivable
Recurring Sales
Collections
Mailing List
Contact (potential, or existing customer) tickler system.
Multiple Sales Tax Rates. Sales tax by city, county, and/or state.
More...

Order Entry

Back orders
1 and 2 size Matrix order screens
Sale Items override current pricing
Fixed 1 column pricing
Fixed 4 column pricing
Quantity break 4 column pricing

All quantities
Quantities computed by individual styles
Quantities computed by style & color
Quantities computed by style, color & size

Customers can have set column pricing, an order can override master information.
Acknowledgements
Shipping fees calculated by weight & number of boxes
More...

Accounts Payable

Purchasing
Print Checks or enter Handwritten Checks
Direct deposit payments - upload payroll or vendor disbursements directly to your bank.
Cash requirement projections.
More...

Payroll

401K (no income tax on deduction)
3 Cafeteria Options (no income, social security or medicare taxes on deduction)
All federal and state forms and reports
Direct deposit & Positive Pay options.
More...

Inventory

1 to 4 fixed column pricing or 2-4 quantity break pricing columns with suggested retail
Weighted average, LIFO, FIFO, Last Cost costing.
Quick Response/EDI ordering
Serialized inventory
Warranty inventory
Import vendor's price lists
Reports giving usage by part number, department, category, vendor, style, color, customer or vendor with sorting by quantity sold/used and/or dollar volume; hottest or coldest products being sold; many, many more.
Sale pricing for "clearance" items.
Specialized pricing for each customer.
More...

Depreciation
Export all master data files for use in Word®, Excel®, etc.
More...


The Point of Sale center is available just in case you have a front desk or service desk station that sells on site.

We can supply everything from the bar code readers to credit card swipers to cash drawers and terminals. From 1 to 1,000 registers, CustomWare®'s Point Of Sale system will keep track of your inventory levels and more. Operator log-in, log-out, multiple operators per terminal, multiple sales-in-progress per terminal (the customer decides they want something else, why keep the customer in line waiting?), till reconciliations and more.
Bar Code input
Multiple locations
Multiple registers per location
Credit card processing
Layaway
Inventory locator (for multiple locations and "back room" storage)
More...


Manage your vehicle maintenance and history. Know when something needs to be done, keep track of costs of repair and maintenance as well as operating costs from oil to gas. Vehicles may be tied to inventory locations and more.
Vehicle Maintenance History
Vehicle Maintenance Schedules
Costing
Reminders
Mileage and mileage history
More...
CustomWare® has over 130 specific options which can be used singly or in any combination:


Pragma is the programming language that CustomWare® is written in. Pragma® was invented in 1973 by Logical Business Machines, (LOMAC and now Logical Business Systems), and it is the only programming language in the world that can program in a foreign language. Designed to ease the tedious tasks of programmers, programming takes 1/10th the time for comparably experienced programmers in C++, Java and others. CustomWare Designs is a Master Distributor of Pragma® and provides world wide support to over 300 dealers.
Natural Language
Diplomat
Pragma 3
Pragma 4 (text 16 bit)
Pragma 4 (text 32 bit)
Pragma 5 (Windows® graphical 32 bit)
Pragma SCO UNIX (Pragma 4, 16 bit)
Pragma Linux (Pragma 4, 32 bit)

Installation Instructions